Shipping Costs & Delivery Information
COVID-19 UPDATE:
With Transport & Logistic Services continuing to operate around Australia, we are still "business as usual".
Transport operators are advising that there may come some delays with delivering parcels and that they have moved to non-contact deliveries with all parcels now being treated as "authority to leave" where safe to do so (drivers are being encouraged to take photos of the parcel). In cases where there is no safe place to leave them, they will be taken to the nearest collection point. Please note that due to these temporary processes, and in line with our Shipping Policy for "authority to leave" items, we are unable to provide any liability for parcels that are reported as missing after they have been left.
From our perspective, we are shipping parcels as quickly as possible to get them on their way and will be offering non-contact options for pickups of orders.
** NEXT DAY Pickups are currently unavailable.
We aim to dispatch all orders within 2 business days of receiving payment confirmation (or sooner if we can). You will receive an email once your order has been completed which will include your tracking details (if applicable). A tracking number will not be provided for cards & wrap sent by regular post. Delivery timeframes can be found further down this page.
A residential or business address is required for delivery. Due to the variety of shipping carriers that we may utilise, we are unable to guarantee that we can ship to a PO Box or Parcel Locker/Parcel Collect. If it is not possible for someone to be available to accept the delivery, we suggest that you use an alternative delivery address (i.e. business address) or consider providing an "authority to leave" which you can notate in the Order Notes.
---
SHIPPING OPTIONS & RATES:
We regularly review our shipping rates to ensure that we provide you with the lowest possible shipping costs.
Our current rates are set out below and may differ from rates previously offered:

Metropolitan and regional/remote areas will be determined as per the classifications used by the carrier of our choice.
EXPRESS SHIPPING (TRIAL):
We are currently in the process of trialing an Express Shipping option which will be available on selected products only.
Express Shipping costs are based on the per item cost of the largest product in the cart. If you have a combination of different sizes in your cart (i.e. one small and one big), place them as 2 separate orders.
If the Express Shipping option does not appear during Checkout, it could be that the item is too large (larger than a 5 kg satchel). We are happy to provide a quote in this instance but we have found that the cost is too expensive to provide it as a option.
Items being sent with the Express Shipping will be prioritised and sent the following business day if ordered prior to 5pm WST on any day.
EXPRESS SHIPPING OPTIONS:
Australia Post (including PO Boxes, Parcel Collect, Parcel Lockers): This is not an overnight service therefore please allow approx. 2-4 business days once sent (approx. 1 business day within Perth).
Toll (available to selected locations only): Generally an overnight service but allow up to 2 business days once sent. These items will be sent uninsured at your own risk and may be required to be collected at the nearest Toll depot or Toll collection point if unable to be delivered.
We have done our best to accurately apply express options to products however should the Express Shipping option have been incorrectly calculated or applied to an incorrect item, we will contact you as soon as possible to advise of the error and options moving forward.
* PICK UP:
Pick Up is available from Byford WA by appointment only and is subject to our availability. This service is only available for items which have been paid for in full. We are unable to offer facilities to view products prior to purchase and cannot accept cash on pick up.
As a guide only, we try to offer pick up between the hours of 9-11am and/or 4-6pm however this cannot be guaranteed and times offered may differ or be outside of standard business hours. We encourage you to include your preferred pick up day and time when placing your order – we will try to accommodate your request but this can also not be guaranteed.
Two options are available:
PICK UP:
Allow a minimum of 2 business days before your order will be ready for collection.
We aim to contact you via email within 1 business day of receiving payment confirmation to confirm the pick up details.
Weekend pick up options will be provided where available.
PICK UP (NEXT DAY):
Orders will need to be placed with payment confirmed by 12pm on the previous business day (Mon-Fri).
"Next Day" refers to the next business day (Mon-Fri).
If you require pick up on a weekend, please contact us prior to placing an order to confirm availability. Payment confirmation will still need to be received by 12pm on the previous business day.
Once payment is confirmed, we will contact you as soon as possible via email to confirm pick up details. This may occur outside of business hours.
This option may not be suitable if you are unable to be flexible with pick up times/availability on short notice for the following business day.
The "Pick Up (Next Day)" fee is only refundable where we have been unable to fulfill the next day pick up.
Laybys and Pre-Orders will be available after 1 business day following final payment or stock availability.
Please advise us as soon as possible if you are unable to make it for your agreed collection time. Failure to collect your order within 7 days of placing the order, may result in your order being cancelled or shipping charges being applied.
A copy of your order confirmation or invoice is required to be presented to collect your order.
Returns will need to be processed in line with our Returns Policy and will not be available for drop-off.
** LOCAL ATL DELIVERY (Byford & Surrounds):
LIMITED OFFER: FREE LOCAL ATL DELIVERY TO BYFORD
Where Local Delivery is provided as an option during checkout, it will be restricted to certain postcodes. Currently, Local Delivery options will only be available to delivery addresses within the postcode areas of 6112, 6121, 6122 and 6123.
Please note that by selecting the Local Delivery option, you are providing an "Authority to Leave" which means that we will leave your parcel on your property in the event that no one is available at the time of delivery. You will therefore be responsible for any loss or damage to your order after it has been delivered. If you have a preferred place for your parcel to be left, please mention this in the order notes during checkout.
Minimum Order Value of $20 applies.
Deliveries will be completed on days and times at our discretion which can include weekends, public holidays and times outside of standard business hours. If delivery is to a business address that is not open on weekends, please advise during checkout.
All efforts will be made to deliver your order within 5 working days of payment being received.
An email will be sent to you advising of the anticipated delivery date. We will do our best to deliver on the advised day however sometimes delays may occur which are outside of our control. We will endeavour to contact you as soon as possible of any delays that we become aware of.
Delivery will only be attempted where there is adequate access to your property and animals are contained.
---
DELIVERY TIMEFRAMES:
As a guide only, we aim to dispatch according to the following schedule. Delays will occur due to WA Public Holidays.
Orders received prior to 12pm Monday – Sent on Tuesday
Orders received prior to 12pm Tuesday – Sent on Wednesday or Thursday
Orders received prior to 12pm Thursday – Sent on Friday
Delivery Timeframes (from dispatch):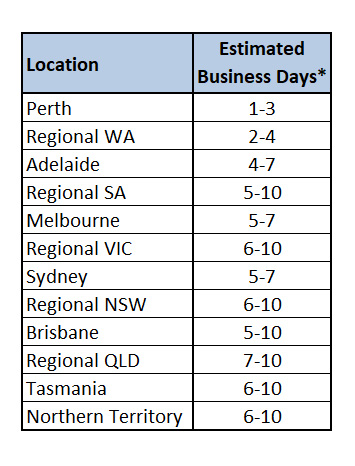 * Delivery timeframes are estimates only and can vary for reasons outside of our or the carrier's control.
* Please ensure that you allow for additional postage times during seasonal periods.
---
ADDITIONAL TERMS:
Any parcels that cannot be delivered may be taken to the nearest collection point or depot. You will be fully responsible for arranging collection or re-delivery of the parcels and any costs associated with doing so. Should you not make arrangements with the carrier, your parcel may be returned to us and additional shipping costs will apply to re-send your parcel. Additional costs will be charged at our shipping rate or the shipping rate charged by the provider (whichever is higher).
Any parcels which are returned to us as undelivered will have both the original shipping cost and any return shipping cost charged to Storvyn Kids by the carrier deducted from any refund provided. The shipping cost/s deducted may be higher than the shipping cost originally paid when placing the order.
When selecting Regular Mail as an option for Cards & Wrap, no proof of shipping will be provided and no liability will be accepted by us for any loss or damage.
In providing an "authority to leave", you will be responsible for any loss or damage to the items after they have been delivered.
Any additional shipping costs (eg. for express post) which are applied to your order must be paid within 3 business days of your acceptance. Should payment not be received, your order may be cancelled. For layby orders, this will be treated as a cancellation and cancellation fees will apply.
To ensure that we provide you with the lowest possible shipping costs, we reserve the right to split your order where necessary into multiple shipments.
Please refer to our full Terms of Sale and FAQs prior to placing an order.