Shipping Costs & Delivery Information
We regularly review our shipping rates to ensure that we provide you with the lowest possible shipping costs.
Our current rates are set out below:

DELIVERY TIMEFRAMES:
We aim to dispatch all orders within 2 business days of receiving payment. In most cases, a tracking number will be provided (excluding cards & wrap sent by regular mail).
A street address is required for delivery. Due to the variety of shipping carriers that we may utilise, we are unable to ship to a PO Box or Parcel Locker. Therefore, please ensure that someone is available to accept the delivery. If this is not possible, we suggest that you use an alternative delivery address (i.e. business address) or provide an "authority to leave" which you can notate in the Order Notes.
Delivery Timeframes (from dispatch):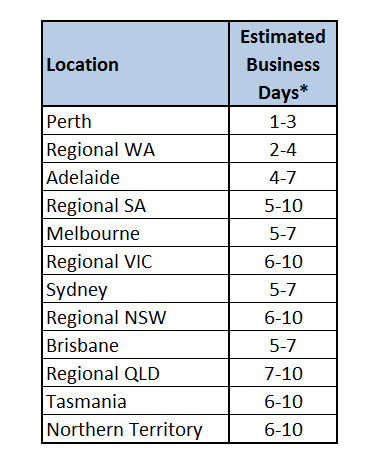 * Delivery timeframes are estimates only and can vary for reasons outside of our or the carrier's control.
* Please ensure that you allow for additional postage times during seasonal periods.
* LOCAL PICKUP:
Local Pickup is available from Byford WA by appointment only and subject to our availability. This service may not be suitable if you are requiring your items urgently.
We will contact you via email within 2 business days of payment being received to organise the pickup. We encourage you to include your preferred pick up date and time when placing your order as we can offer flexible pickup times during and outside of standard business hours.
This service is only available for items which have been purchased and paid for in full. We are unable to offer facilities to view products prior to purchase and cannot accept cash on pickup.
A copy of your order confirmation or invoice is required to be presented to collect your item. You will also be required to sign for your order.
Failure to collect your order may result in your order being cancelled or shipping charges being applied.
Returns will need to be processed in line with our Returns Policy and will not be available for drop-off.
* LOCAL DELIVERY (Byford & Surrounds):
Where Local Delivery is provided as an option during checkout, it will be restricted to certain postcodes. Currently, Local Delivery options will only be available to delivery addresses within the postcode areas of 6112, 6121, 6122 and 6123.
Please note that by selecting the Local Delivery option, you are providing an "Authority to Leave" which means that we will leave your parcel on your property in the event that no one is available at the time of delivery. You will therefore be responsible for any loss or damage to your order after it has been delivered. If you have a preferred place for your parcel to be left, please mention this in the order notes during checkout. Should you prefer not to have your parcel left, please select the "Standard Shipping" option.
Minimum Order Value of $20 applies.
Deliveries will be completed on days and times at our discretion which can include weekends, public holidays and times outside of standard business hours. If delivery is to a business address that is not open on weekends, please advise during checkout.
All efforts will be made to deliver your parcel within 5 working days of payment being finalised for your order.
If requested, when placing the order, we can contact you prior to delivery to confirm the anticipated delivery date. Please note that the on some occasions, the delivery may take place on the same day that the order is finalised.
We will do our best to deliver on the advised day however sometimes delays may occur which are outside of our control. We will endeavour to contact you as soon as possible of any delays that we become aware of.
A signature may be required on delivery if someone is available at the address.
Delivery will only be attempted where there is adequate access to your property and animals are contained.
ADDITIONAL TERMS:
Any parcels that cannot be delivered may be taken to the nearest collection point or depot. You will be fully responsible for arranging collection or re-delivery of the parcels and any costs associated with doing so. Should you not make arrangements with the carrier, your parcel may be returned to us and additional shipping costs will apply to re-send your parcel. Additional costs will be charged at our shipping rate or the shipping rate charged by the provider (whichever is higher).
Any parcels which are returned to us as undelivered will have both the original shipping cost and the return shipping cost charged to Storvyn Kids by the carrier deducted from any refund provided. The shipping cost/s deducted may be higher than the shipping cost originally paid when placing the order.
You are responsible for ensuring that you advise us of any changes to your delivery address. Additional charges may apply depending on the new shipping location.
When selecting Regular Mail as an option for Cards & Wrap, no proof of shipping will be provided and no liability will be accepted by us for any loss or damage.
In providing an "authority to leave", you will be responsible for any loss or damage to the items after they have been delivered.
No liability is accepted for delayed or late deliveries. We will endeavour to contact you as soon as possible of any delays that we become aware of.
Any additional shipping costs (eg. for express post) which are applied to your order must be paid within 3 business days of your acceptance. Should payment not be received, your order may be cancelled. For layby orders, this will be treated as a cancellation and cancellation fees will apply.
Metropolitan and regional/remote areas will be determined as per the classifications used by the carrier of our choice.
To ensure that we provide you with the lowest possible shipping costs, we reserve the right to split your order where necessary into multiple shipments.
Stock is subject to availability. Despite our best efforts, mistakes and glitches do happen. As such, information on the website may be incorrect or subject to change (i.e. stock availability & dates, stock levels, prices).
Please refer to our full Terms of Sale and FAQs prior to placing an order.